CAIR-MI seeks annual banquet coordinator for 2014 banquet. Submit resumes now to info@cairmichigan.org. Read below for details of job description.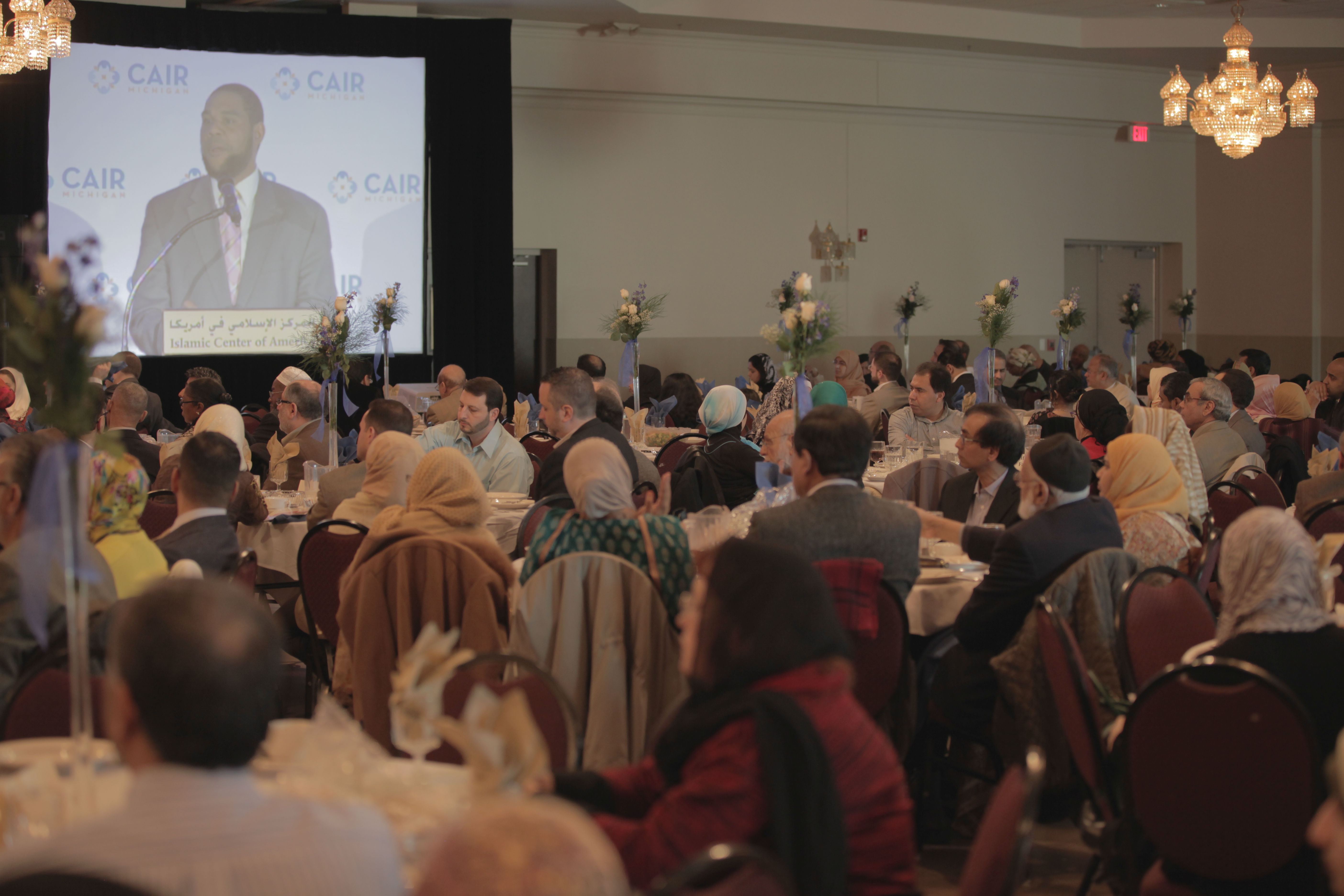 Mission
CAIR-MI's mission is to enhance the understanding of Islam, encourage dialogue, protect civil liberties, empower American Muslims and build coalitions that promote justice and mutual understanding through education, mediation, media and the law.
CAIR-MI has been serving the entire state of Michigan since 2000 with an emphasis on Metro Detroit, Flint/Saginaw, Ann Arbor/Jackson, Lansing, Kalamazoo/Battle Creek, and Grand Rapids/Muskegon.
How CAIR-MI Works.
The Council on American-Islamic Relations Michigan Chapter (CAIR-MI) is a nonprofit 501©(3) grassroots civil rights and advocacy group. The organization is affiliated with America's largest Islamic civil liberties group, CAIR, whose headquarters is located in Washington D.C.
Through media and government relations, education and advocacy, CAIR-MI puts forth an Islamic perspective to ensure the Muslim voice is represented. In offering this perspective, CAIR seeks to empower the American Muslim community and encourage their participation in political and social activism.
Project Description:
CAIR-MI Annual Banquet Coordinator
The CAIR-MI Annual Banquet Coordinator is responsible for organizing and coordinating all aspects of the CAIR-MI annual banquet, including banquet logistics, sponsorships, table and ticket sales, marketing and community outreach. The banquet coordinator will also be responsible for arranging the timely publication of the annual dinner booklet and promotional materials including fliers, posters, postcards, etc. Banquet Coordinator should have experience coordinating and organizing large scale events with 1000 attendees.
Banquet Coordinator Tasks:
·         Timeline
o   Develop timeline of work and goals for banquet attendance, ticket sales and sponsorships.
·         Outreach and Marketing
o   Efficiently advertise banquet to Michigan Muslim communities, mosques, organizations, businesses, civil rights and interfaith leaders as well as to local politicians.
o   Promote banquet through mass mailings, letters, fliers, emails, social media, Friday prayer announcements, community newsletters and local community events.
o   Confirm attendance of key community leaders, philanthropists, interfaith and civil rights leaders and politicians.
·         Sponsorship and Sales
o   Arrange sell of tickets at key mosques and secure local representatives from each mosque community to sell tickets and promote banquet at their local mosque or Islamic center.
o   Secure sponsorships, table purchases and representation from key Muslim communities.
o   Communicate effectively with local mosque and Islamic center leadership and boards to secure active community awareness, attendance and sponsorship from all major Michigan mosques.
o   Coordinator should physically visit the major community centers to solicit sponsorships and ticket sales and he or she shall meet with CAIR-MI staff and board after the banquet for feedback and event evaluation.
·         Promotional Materials
o   Will coordinate development and printing of banquet promotional materials and dinner booklet which will include sponsorship advertisements, CAIR-MI activity photos, key local, and state and federal elected official's letters of support, CAIR-MI work summaries and graphs detailing CAIR-MI work statistics.
o   Dinner booklet will be produced in a timely manner allowing for feedback and changes to be made by CAIR-MI board and staff, well in advance of banquet to allow adequate time for booklets to be printed and distributed at the banquet.
o   Drafts of the banquet book, banquet PowerPoint and other promotional materials to be used at the banquet will be submitted to the staff and board to review based on a timeline.
·         Communicate with Staff and Board
o   Will coordinate with CAIR-MI staff to ensure implementation of annual banquet tasks.
o   Will periodically update CAIR-MI board on banquet planning progress, timeline and goal accomplishments.
·         Day of Logistics
o   Coordinate elegant and professional décor for banquet venue.
o   Confirm and coordinate all necessary day of needs including materials, volunteers, banners, audio-visual setup, program, agenda, powerpoint slides, videos, etc.
o   Ensure prompt arrival and accommodation for local and out of town guest speakers, MC's, fundraisers, and award recipients.
o   Order and coordinate banquet awards for award recipients.
o   Coordinate 10-12 local volunteers to assist during day of the banquet.
Selection:
Banquet Coordinator will be selected based on possessing the experience, abilities and networking capabilities to accomplish the above tasks.
Banquet Coordinator will be selected seven months prior to the banquet date in April 2014 to begin banquet coordination.
Compensation:
Banquet Coordinator will be compensated commensurate to experience.
Submit resumes to info@cairmichigan.org .