Jan 25th, 2014
Muslim Youth Leadership Symposium
Date: Jan 25, 2014
Time: 8:30 a.m. to 5 p.m.
Price: Free
Register OnlineLocation:
19000 Hubbard Drive Dearborn, MI 48128
Share:
Thank you to all speakers and participants for attending MYLS 2014. Please fill out this brief survey: https://www.surveymonkey.com/s/2NL2S2V We appreciate your feedback. 
Read tweets from this event #MYLS2014 
CAIR-MI will host the Muslim Youth Leadership Symposium with the University of Michigan-Dearborn Muslim Students' Association on January 25, 2014 from 8: 30 a.m. to 5 p.m. at the University of Michigan-Dearborn (Fairlane Center South, Dining Hall D) to train high school seniors and college-aged youth in civil rights activism. The event is free with registration for 100 limited tickets.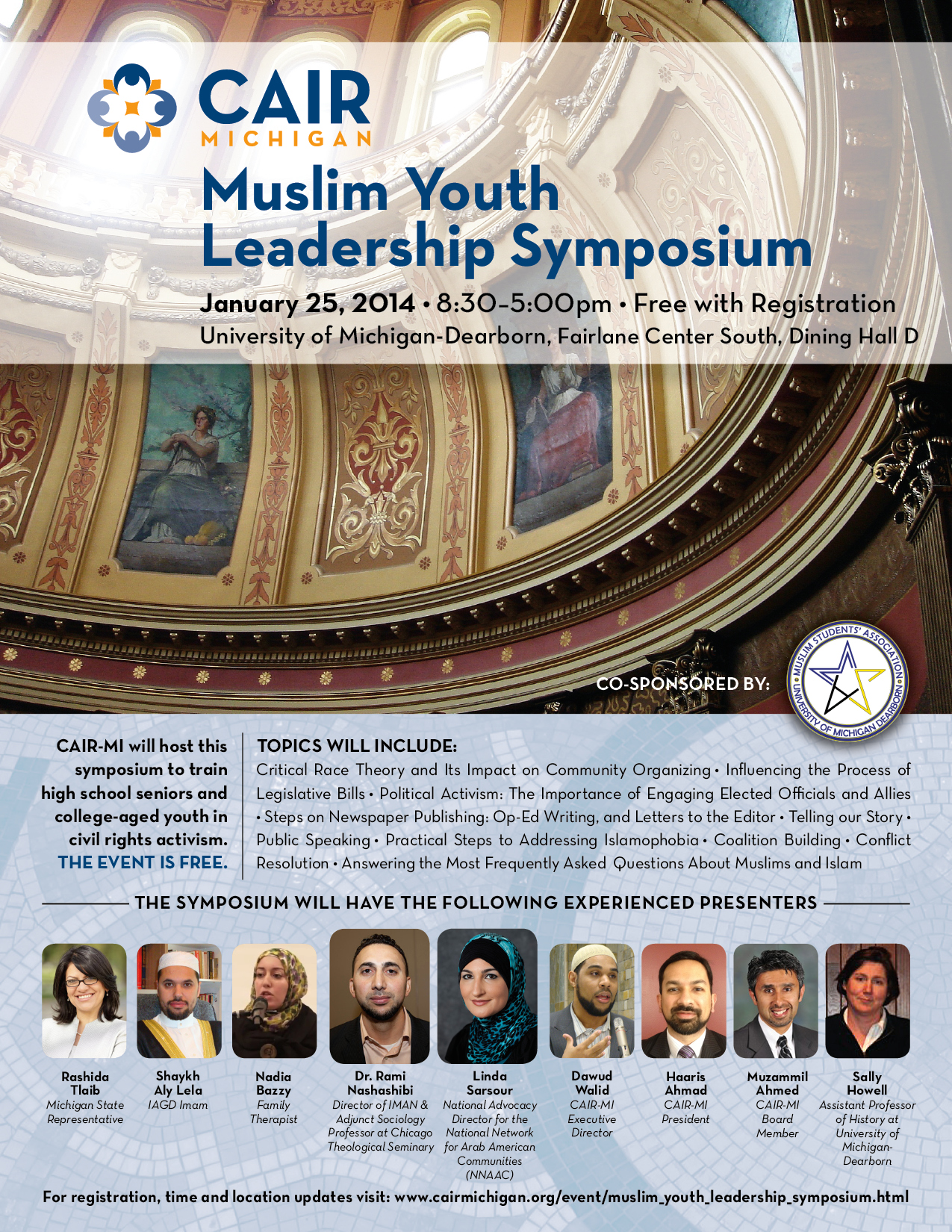 Topics Will Include:
Critical Race Theory and It's Impact on Community Organizing
Influencing The Process of Legislative Bills
Political Activism: The Importance of Engaging Elected Officials and Allies  
Steps On Newspaper Publishing: Op-Ed Writing, and Letters to the Editor
Telling our Story
Public Speaking
Practical Steps to Addressing Islamophobia
Coalition Building
Conflict Resolution
Answering the Most Frequently Asked  Questions About Muslims and Islam
Confirmed Speakers:
Dr. Rami Nashashibi - Director of IMAN & Adjunct Sociology Professor at Chicago Theological Seminary
Linda Sarsour - National Advocacy Director for the National Network for Arab American Communities (NNAAC)
Rashida Tlaib - Michigan State Representative
Shaykh Aly Lela - IAGD Imam
Nadia Bazzy - Family Therapist
Dawud Walid - CAIR-MI Executive Director
Haaris Ahmad - CAIR-MI President
Muzammil Ahmed - CAIR-MI Board Member
Sally Howell - Assistant Professor of History at University of Michigan- Dearborn
For more information you may contact info@cairmichigan.org, nrahman@cair.com, or call the office at 248-559-2247.