Nov 6th, 2012
Safe Spaces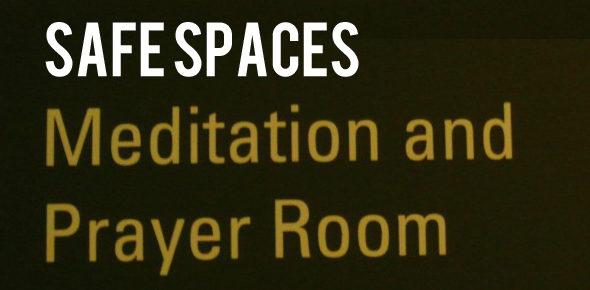 Mission

The mission of Safe Spaces is to produce and adopt policies that positively affect the Muslim community as well as the greater non-Muslim community through education, dialogue and cooperation. Safe Spaces will work proactively with institutions, corporations, universities as well as primary level schools and other entities to implement "Muslim friendly" policies that will have a constructive outcome for both the Muslim and greater non-Muslim community.
CAIR-MI Safe Spaces Work Includes:
Reflection Room
CAIR MI works with schools, universities, and companies to help implement reflection rooms and prayer accommodation. Recently CAIR-MI worked with Oakland University and students to renovate a reflection room for students, and update the policies for the quiet mediation space.
Diversity and Sensitivity Trainings 
CAIR-MI offers diversity and sensitivity training to corporations, private institutions and government agencies all across Michigan. CAIR-MI's diversity training is designed to help these entities reflect cultural competency in their attitudes, policies, and services. "Cultural competency" refers to a set of congruent behaviors, attitudes, and policies that enables professionals to work effectively in cross-cultural situations. Remaining conscious of the dynamics inherent of cultures when they interact allows corporations, private institutions and government agencies adapt and reflect an understanding of diversity. This inevitably helps increase professional competency, reduce conflicts and increase employee job satisfaction in an increasingly diverse workplace and nation.
Faith-Based Healthy Living Curriculum
CAIR-MI partnered with Written Images, a group working with Health Alliance Plan, on a faith-based healthy living curriculum for youth aged K-5. The program focuses on the importance of healthy eating, exercise, cutting down on sugar, and reducing "video" time. This curriculum incorporates Islam and is designed to be used in religious settings as part of a youth educational program to support healthy living principles.
Religious Library Project
CAIR-MI is working with a number of libraries throughout Michigan to promote and create programs for Bridging Cultures Bookshelf, an initiative through the National Endowment for the Humanities project, which engages the power of the humanities to promote understanding of and mutual respect for people with diverse histories, cultures, and perspectives within the U.S. and abroad.
Discrimination in Schools
CAIR MI is working proactively with schools to implement policies and take a stand against bullying and discrimination.
Halal Food Accomodation
CAIR MI works with schools to implement halal food in school cafeterias. CAIR-MI has also worked with police departments to offer halal food options.  
Religious Accommodations for Prisoners
CAIR-MI advocates on behalf of Muslim inmates requesting religious accommodations in correctional facilities.
Regions Covered
Metro Detroit
Flint / Saginaw (Grand Blanc, Schwartz Creek)
Ann Arbor / Jackson
Lansing
Kalamazoo / Battle Creek
Grand Rapids / Muskegon
For more information or to become a Safe Spaces intern, please contact internships@cairmichigan.org, or call (248) 559-CAIR.