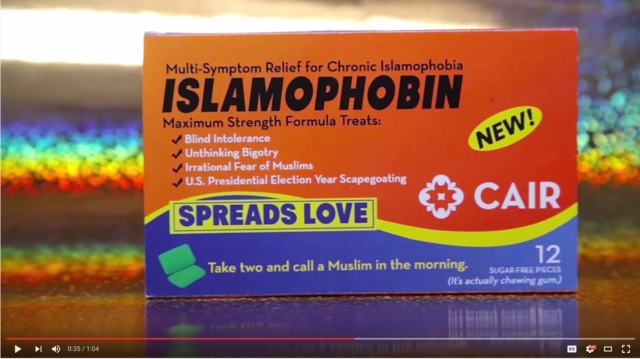 CAIR yesterday launched a satirical public awareness campaign to challenge growing Islamophobia in America. In its new social media campaign, CAIR is distributing "ISLAMOPHOBIN®," a mock-medicine designed to "cure" Islamophobia and includes a television commercial for the product.
SEE: CAIR Launches 'ISLAMOPHOBIN' Public Awareness Campaign to Challenge Anti-Muslim Bigotry
https://www.youtube.com/watch?v=_s57kPS_gjM
SEE: CAIR-MI Rep Discuss Islamophobin (WXYZ – Channel 7)
http://www.wxyz.com/news/satirical-video-about-gum-that-cures-islamophobia-an-effort-to-stop-anti-muslim-bigotry
ISLAMOPHOBIN is available for purchase at www.amazon.com.